Post by Deleted on Aug 7, 2014 16:36:29 GMT -7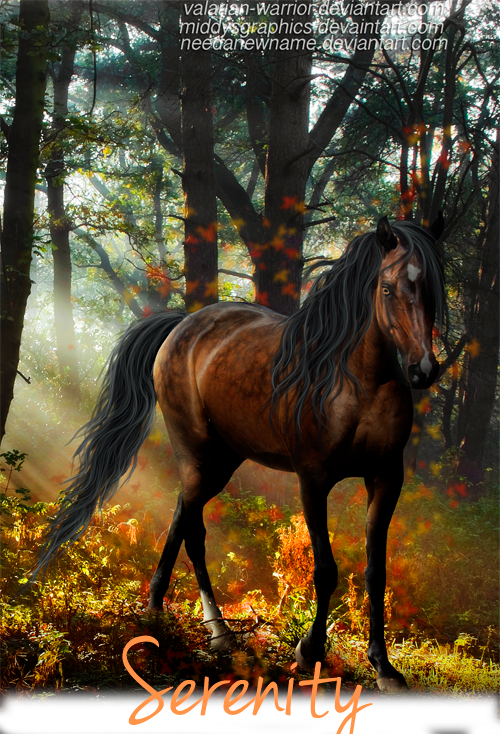 Name- Serenity
Breed- Thoroughbred
Age- 9
Gender- Mare
Height- 16.3hh
Alliance- Dark
Health- 100% - physical, 100% - mental

x. The day had started off pretty, with a jolly blue sky and a perfectly round orange sun. Yet by midmorning the sky had started to darken. Clouds as grey and deep as the ocean closed in around the Helkaer lands of Katania, and with them came a drop in temperature and an increase of wind. Tree branches whipped wildly with exceptionally strong gusts, birds flew for cover, and wildlife scurried to their respective holes and nests. Ripples of water blew from the surface of the river, and blades of grass bent backward on themselves. The horizon split open with electric fingers as lightning touched down a few miles away, and the earth shook with the booming drums of thunder. The air was tense and fresh, just like the essa whose lungs it filled. Serenity, or Marlohe as her fellow Helkaer called her, stood in the very middle of a lush field of heather. The soft purple flowers tickled at her cornets; a sensation that went unnoticed. Tendrils of black forelock interrupted an emotionless amber stare that watched the lightning. Dark and dappled harks lay back against her sculpted tiara in a stance that was more aggressive than neutral. Wind twirled up her ebonite limbs and slapped her gossamer hide as effectively as a butterfly might assault a towering oak tree. She did not give, absorbing ever violent gust like a formidable rock would absorb the sea's crashing waves. The Thoroughbred goddess dared the rain to come, she dared it to bask her hide in its sweet glory and fuck up her plans for the afternoon. Her jaw was set in a firm line, thick lashes brushing the very tops of her cheekbones as she blinked in an unimpressed manner. Serenity's lips parted and enamels snapped tightly together, almost like she was attempting to deter a foe instead of merely express her increasing displeasure with the weather situation. At last the rumbling ceased in the distance, the sky grew still, and slowly the dark clouds faded away like smoke. She realized then that she hadn't been breathing, and steadily she inhaled a long, smooth breath. Today would be her day, then. With that storm vanishing came a storm of a different variety. She would have gone to the battlefield with the rain, of course she would have. The mare, with beauty enough to rival the beauty of life itself, had her fired amber spheres set on something that she wanted back in her keep where he belonged.

Her strides brought her forward to find the path that would guide her to the battlefield. She left the lands of the Helkaer far behind her, though she could claim she was doing her Helkaer duty this time she picked a fight. The churning sky gave way to a little bit of sunshine, and it caught the golden dapples on her bodice as her silken hide flashed with warming muscles. At first glance, she would appear to be stunning and nothing else. There was nothing about her outer appearance that suggested she had ever been on a battlefield other than as a spectator while men duelled for her attention. No one would venture that she'd had her blood shed or shed another's blood. And throughout her life in the vast lands of Wild Equines, she hadn't stepped into a violent light such as that of the battlefield. She had fought verbally before, yes, out of anger and out of honour. She had uttered threats that she would have certainly made good on if they had been ignored and her patience had been further tested. Serenity was a Helkaer mare, which indicated danger just in itself, yet still this would be her first time to actually duel. Fire flowed through her veins as her steps picked up a bit of speed and her nimble physique danced over the well-beaten path in a careful trot. She went through her stretches, dropping her poll and loosening the muscles that lined her spine. Her hips and shoulders became fluid as she tipped them one way and then another, and her hindquarters and swan-like nape engaged as she brought her chin closer to her chest and became a true picture of equine wonder at a rolling canter.

Her dark bay hide, christened with highlights of treasure, was pristine and without a flaw. She held no scars of her past, only a sultry canvas for her future. Serenity knew of her opponent, he had messed with her blood before. Ra'Zac had warred with Serenity's twin brother, Baron, and lost. But family was still family, and in order to soothe her own protective anger she had stolen him swiftly afterward. He was nothing spectacular to gaze upon, but his actions were what made him... pathetically interesting. He had fled like a little boy would, taking refuge behind an invisible mother's skirt outside of Wild Equines. It was laughable, really. And now he had returned with plans to start his own empire. But he, the forgetful, adorable little being that he was, had forgotten that he still belonged to her. He was her property. Obviously she wanted to return him to her cells and give him as a gift to Baron. It was the least she could do after the hell she'd put her brother through over the past year or so. Though Serenity wanted to have her way with Ra'Zac first, and she intended to spoil him before her brother dug his claws in. She had been raped countless times in her past... it was about time she struck back at the opposite gender. Carbon expelled steadily into the atmosphere through rose-hued nares, her heart rate increasing as she crossed the boarders and introduced herself to the battlefield. It was a dry wasteland that stunk heavily of blood and decay in the better used portions of terrain. Serenity avoided them, her pace slowing to a walk as she sought out something that would be suitable for her colosseum. Uneven ground was best avoided, as much as she wouldn't mind compromising the footing of her opponent she didn't want to fuck herself over either. Hills she avoided for similar reasons, eventually bringing all four daggers to a square halt in front of a flat valley. It was absent of huge rocks or brush, and there was enough green foliage to suggest that dust would be limited. Serenity cleared her throat, flicking her elegant banner from hip to hip as she studied the lands she'd chosen. After a handful of seconds she lifted her velveted mug to let out her siren's call. Oh Ra'Zac. Come here, my little pet. You've been naughty and I'm afraid I'm going to have to punish you. His name was like a hiss as it left her tongue. She hoped he'd show his face sooner rather than later, her body itched for the violence her mind had promised. Everything around her was quiet, even the wind had stopped and remained still. Her fine features were hard with determination, her withers twitching anxiously, and her heart was a steady metronome in the confides of her chest.


Words: 1210
Muse: Good
Music: None
Tagged: @snowy

Hits: 2

Dodges: 1


Notes: Terms are 2 hits, 1 dodge, 3 days between posts, no word limit. Ra'Zac is battling for his freedom, and if he loses he returns to Katania with Serenity to be a slave.