Post by Deleted on Sept 5, 2013 12:45:38 GMT -7
Name-
Baron
Breed-
Thoroughbred
Age-
9
Gender-
Stallion
Height-
17.1hh
Alliance-
Dark
Health-
100% physical, 100% mental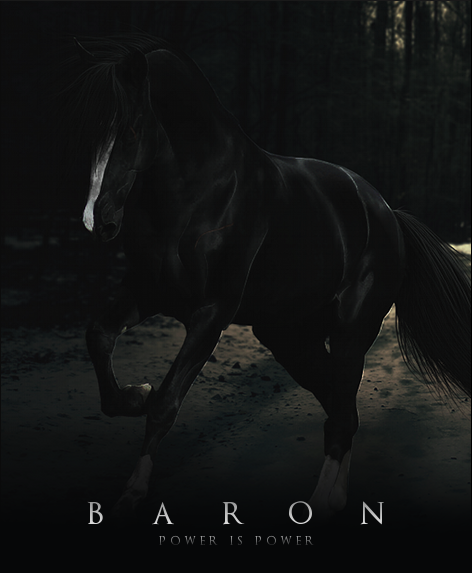 x. Locomotion was a beautiful thing. The use of every specific part of the body to the extent of its very purpose, corresponding muscles working in unison to create one flowing picture of grace. The manipulation of the body's power, the physical ability to stretch, flex, and release tension and create a kind of visual music for the surrounding world. The silence, humming away in his harks as it descended over the trees and brush in a veil of peace and stability, was a welcome guest. A very slight whisper of wind played with the ends of his banner, sending the tips of the ebonite hairs tickling over his cannons and fetlocks as he stood square, as if awaiting an expected que to break the pristine quietness. It came in the form of cedar branches rustling against one another during another bit of breeze. They hissed ever so slightly above him, and it sent a twinge of electricity pulsating up his spine. Light caught over the lines of his physique as the muscles below the silken sheen of his hide rippled, every aspect of his frame available for scrutiny, exposed to an invisible audience. When Baron had been younger, maybe the beginning of his third year of life, he had been told he'd undergo a new type of training. Not battle, not torture, not tactical thinking or plotting with other esteemed members of his father's inner circle. No, it was a kind of personal training to enhance his physique, aimed to make his every limb and his every inch obey any command he should be required to ask. Baron had scoffed at the very idea, cocky in his young age and utterly sure of himself and his physical abilities. He had always possessed a spectacular build, perfect conformation, and a natural love for work. So what could he possibly learn from an old warmblood-type stud who spoke in heavy German tones. He had firmly believed he'd known everything and heightened everything to the edge of its abilities, and he had been wrong. There was no sugarcoating the art of Dressage, there were no shortcuts for the complex motions and no higher degree of mental exhaustion. His teacher, his foreign language erupting in barks and snarls, had no patience for weakness or overcompensating in one way to be lazy in another. Baron would release his collection for a mere moment to loosen his aching topline while bringing his limbs across in a lateral pass only to have his critical instructor rap his chest with sharp ivories The word 'Nein!' had been a very popular one for the German, and it was the only one Baron could understand without any kind of doubt. And then he'd do the pattern again, and again, and again until his entire frame burned and his patience had long ago faded into a sheer rage with his inability to do these pointless tasks. Passage. Paiffe. Renvers. Volte. Tempi Changes. Trevers. Rhythm. On the forehand. Haunches in. Shoulder in. Shoulder out. Haunches out. Half-Pass. Full Pass. Flying Changes. Collection. Impulse. Cadence. They were brutal physical torments, but by the end of his agonizing training Baron had mastered them all to the art in which was required for such a discipline. He had displayed them all in a final performance, his body a nimble, obedient, powerful tool for the movements to flow through in a stunning display of physical splendour. His limbs had lifted and descended in time with some invisible pendulum, calm and in control of every step, every bend, every single solitary muscle on the vessel that was his body. His hind limbs moved under him in half-circles, to simply move them up and down promoted stiffness and restricted the freedom in his loin. He continued the motion in place, never breaking as a sheen of sweat began to appear on his chest. His strides smoothly broke into a canter, the beats even and consistent as his nape flexed deeper to his chest and he rotated around his haunches in a perfect circle. One after another, his front limbs snapped out as his lead changed after each and every stride he took. But it wasn't so simple; the motion had to engage from the hindquarters before the shoulders otherwise tension appeared in his ribcage and down into his hips and his risked a disjointed communication between the halves of his physique. He elegantly brought himself down to a working trot, curving himself around the corner of his make-shift manege and heading diagonally. He could do a lot of things with his natural conformation, but it had taken every hour of his training to harness the ability to hold an extended trot and make that beautiful movement look almost godly as he soared over the ground with outstretched limbs eating the soil with toes snapped out to the extent of their reach. He went through each motion with ease, the strain it had once had on him forgotten in an ecstasy of physical release the likes of which no other act had ever bestowed upon him. Not even sex could bring about such a feeling.

He had ended his freestyle with a low bow to his teacher, who had stood in the center of the menege in uncharacteristic silence. Sweat had dripped off of him that day, frothing on his chest and shoulders, dampening his tresses and misting on his inked tones. Today, he had barely heated up at all as he brought his movements to a close and walked out of his arena while flexing and stretching his nape and rolling his shoulders. His crown lowered, nose almost dragging in the dirt as he freed up any stiff muscles and encouraged circulation throughout his frame. He was loose and limber, his former training now a well established routine in his day-to-day activities. He had gone a little to the extreme before heading to the battlefield, drilling the motions into his brain as if he hadn't done them in years instead of mere hours. He knew how to move, he knew how to be flexible, pliable, able to manipulate himself in any kind of shape he needed to become in order to avoid an attack. His Dressage had taught him how to keep his size from being a possible problem, since everybody knew the age-old story of David and Goliath. Baron was no Goliath, as large as he was and as much muscle mass as he had, he was as quick as a serpent and as well-educated in the wonderful world of blood and gore as one could get. Baron was composed entirely of Thoroughbred linage, racing stock and sport horses from a time long ago when the beasts were bred for stature and before human breeders began picking lighter forms of the breed. Baron was built like a warmblood, and yet the blood in his veins was as hot as a flame. He looked as if some artist had sat down for an eternity and carved him out of marble, his every detail was down to the utmost perfection. His limbs were long with cannons that fell beautifully even between knee and pastern. From behind the wither to his poll, the line you could draw was considerably longer than from the base of his wither to the dock of his tail. He was not overly short-backed like a high-level jumper happened to be, but he sure as hell wasn't long. His shade was an impenetrable hue of ebony, never to bleach in any degree of sun or fade with age. Baron's inky canvas was broken by three high socks, his front right the only exception for the pale accessory. A wide blaze cut down his facade, dipping down and around his chin. Baron was well accustomed to staining his various white markings with crimson, and he almost liked the idea. Black wasn't the best thing to showcase your victory on, and a little bit of alabaster came in handy to show off the blood of a fallen foe. The inked stallion was no stranger to the stage of the battlefield, that was certain. He'd ventured here a number of times since settling in Wild Equines to protect property and family. He had duelled before, a hundred times since being on his own and five hundred times in his training. There was little he hadn't seen, he had stopped being surprised by faked attacks and hard hits long ago. Baron technically knew better than to underestimate an opponent, and so Ra'Zakie-poo wouldn't be getting special treatment, no matter how unimpressed Baron was with the little puke. And no, Ra'Zak hadn't seen Baron angry yet. He'd seen him annoyed, sure, it was hard not to be annoyed with a mundane punk showed up and insulted your intelligence. But angry? It took a little more than that to fully engage Baron's temper to the full extent it was capable of. Words alone could not do it, it would be actions that granted you a VIP pass to his true dark side. To have a good little interview with Baron's inner monster, you had to fuck with a member of his family. You'd have to smack his daughter, rape his sister, kill his son to really truly earn yourself a one-way ticket into the ground. Ra'Zak was a distraction, a little pick-me-up from Baron's usual boring day. He was no real enemy, he was a cute little pest in need of extermination. Like a mouse one might find in their barn; sure they were cute, but they carried nasty diseases. That being said, Ra'Zak might be closer to a rat and therefore pose no hesitation what so ever to kill. A rat could occasionally be a good ally, a rat could occasionally be a half-decent pawn in the greater game of chess that occasionally took place between members of the dark alliances. But a rat was no player in that game, and a rat had no chance of becoming a player in that game. A rat could dress himself up, portray himself in any given way, make any alliance or secure any friend that could include every big time player that lived in Wild Equines. But the big players had the same kind of rat-radar, and they would treat him all the same. He'd be on the edge of the plans, the edge of the plots, never to truly nestle himself among the high ranks of Wild Equine's very finest. And burning a bridge with Baron was an excellent way to keep himself from even being in a two-mile radios of the big boys.

Baron moved ever deeper into the heart of the terrain, his remaining hazel pool falling to the scarred terrain at his daggers. He could easily see the various places were a pair of equines had battled, the older portions and the newer ones. He could see the torn earth, bleeding a dried grime and dirt. There should be blood, staining the flesh of the planet here or there if not for the rain washing such stickiness away. Baron was all for equality in battle, and he was careful to avoid sections of land with hills and dips present. He specifically chose an even field, flat and unimpressive with no surprises to speak of. Baron did not play dirty, there was a kind of etiquette to war he had long understood and respected. Thou shalt not fuck over thou opponent, for staters. That included but did not limit to good ol' fashioned cheating. However, beating the shit out of Ra'Zak wasn't off the table, either. He had been the one to challenge, and so he would reap the consequences of his actions, as ill-informed as they might have been. There would be no mercy once the first blow was exchanged between the two hellions, but it was not too late to back out. It was not too late for Ra'Zak to decide maybe it wasn't in his best interest to go fucking with the likes of Baron... but oh wait, yes it was. For Baron, 'mercy' had gone out the window from the moment Ra'Zak had strode into Terrivel Beleza and acted like a spoilt prick, demanding this and that from an esteemed leader and truly expecting to be appeased. The nerve of idiots these days, it was utterly astounding. Ah well, Baron didn't mind taking a little bit of time out of his day to school Ra'Zak in a thing or two. Regardless of the outcome of this particular fight, Ra'Zak wouldn't see the last of Baron. The handsome behemoth was programmed in a way that once he decided he was going to do something or not do something, there was no possible way to change his mind. If he honed in on you for whatever reason, like a fox on a vole, you'd better believe you were as good as his. Of course, his attention was a little hard to earn and even harder to keep, so such honing didn't occur very often. So Ra'Zak was going to be on the very short list of equines whose lives Baron was personally going to make living hells. Lucky lucky, wouldn't you say? Baron brought his chin to his chest, lifting his powerful crest into its usual position of collection. The sun was perched in the middle of the sky, and already Baron was barely able to keep himself still. He was pumped, ready to go at any given second for any given reason. Like a boxer in a locker room before a match, Baron could barely keep himself under control. This would be the hardest part of the fight, the waiting for the other opponent to get his fucking ass in gear. The quiet before the storm... the still that came before the explosion. Baron had quite a list of things to defend today, other than just the land. He had a couple of young children like Fenn, Deidre, and Felix. Winter Solstice had her son too, whom he'd sort of promised a safe home upon her showing up in the middle of that storm. He had a pregnant Libitina to keep comfortable as her months of carrying his baby ran down to the wire and she swelled larger than she really ought to be swelling. Baron would say his pride was a minor thing to risk if he lost, compared to the other responsibilities that would be sticking him in the rump. And then there were the lands themselves, his beautiful Terrivel Beleza. Baron had pride for his home, the lands he reared his babies in and the lands he patrolled daily and cared for like a spouse. He was their soul ruler, with Skindred now gone. And lord help him, he would be their only ruler for as long as there was breath in his lungs. And if not him, they would go to a suitable son or daughter Baron had personally sired. The blood boiled in his veins at the very idea of this Ra'Zak... this waste of space... thinking he could pry Terrivel Beleza out of Baron's grasp. It wasn't going to fucking happen. Ra'Zak would have to do what hundreds before him had failed to accomplish and take Baron's goddamn life before considering taking the throne of Terrivel Beleza. Baron had been protective of Fading Creek as well, they had been precious to him and very much beloved by him. But not like Terrivel Beleza. Terrivel Beleza was life his wife, almost like the mother of his children, and the only consistent thing in Baron's life. Terrivel Beleza had not grown up and left him, Terrivel Beleza had not betrayed his trust or disregarded his love. In so many ways, Baron had found more in Terrivel Beleza than he'd ever found in any of his queens. He very much belonged to those lands, and they very much belonged to him.
Muse: Good
Words: 2721
Music: None
Notes:
4 hits
2 dodges
4 days between posts